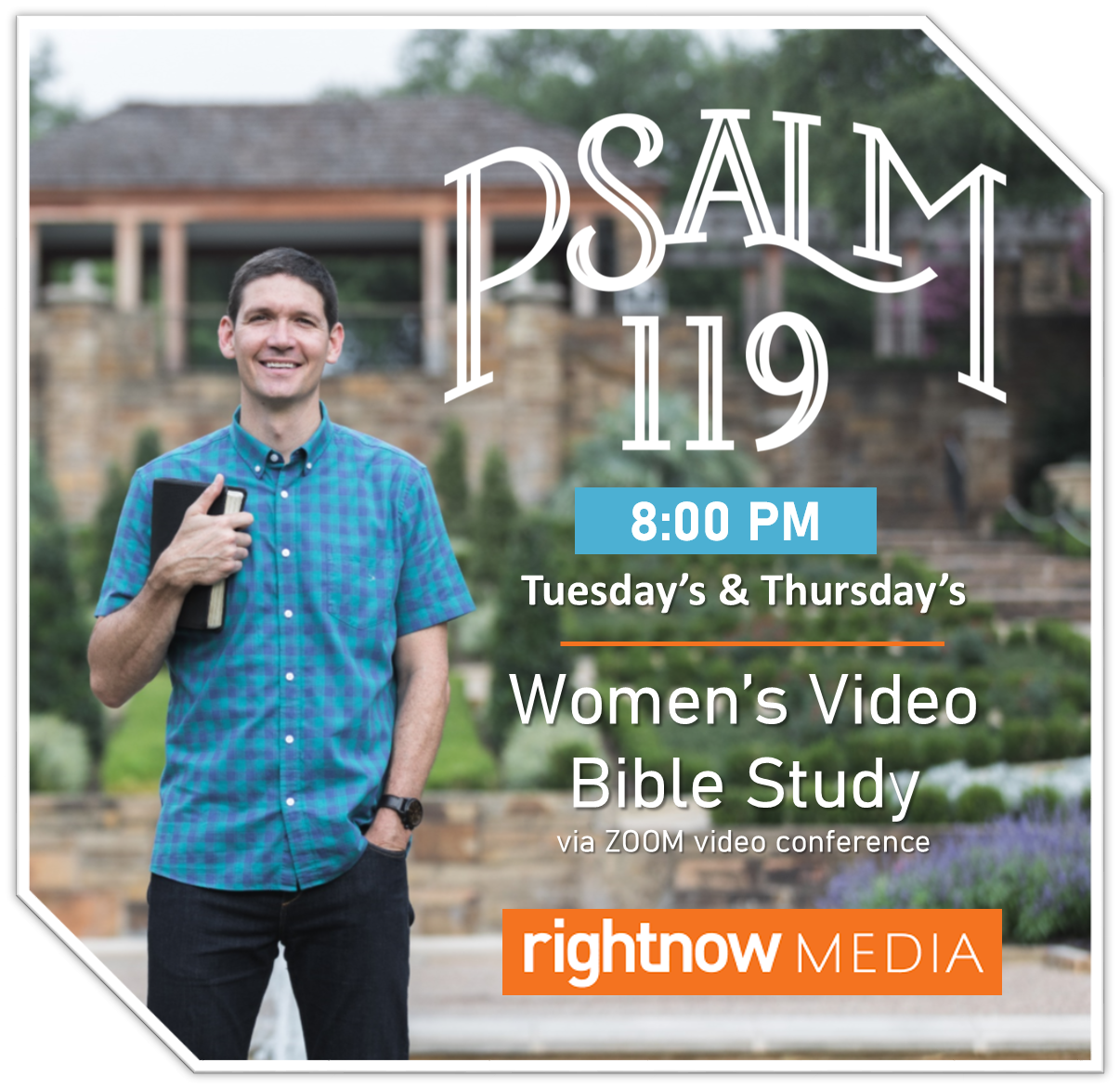 To get connected you will need a couple of things.
1) Rightnow Media (click HERE if you do not already have)
2) Zoom Cloud Meetings (Android or iOS)
Once you have those two things you can click the below link to connect to the video conference at 8:00 PM on Tuesday's & Thursday's.
Tuesday Meeting Info:
Meeting ID: 420-156-032
Thursday Meeting Info:
Meeting ID: 674-933-888
Psalm 119 - "Homework"
Session 1 - Tuesday, March 31, 2020
Level 1 - Pray, then read Psalm 119:1-16 and make notes on Video Session 1
Level 2- Discussion Questions
A. What does verse 1 identify as a foundation for those who are blessed
and what is your initial reaction to that?
B. How would you describe the "blessed life"? Think of people you consider
spiritually mature. List elements of their lives you noticed and would like
to have in your own.
Level 3- Go Deeper

A. How does the health, wealth, and prosperity gospel distort the biblical
meaning of the "blessed life"?
B. Matt says Psalm 119 points outside itself to the finished work of Christ.
What do you think that means?
Level 4- Inward and Outward
A. Pray and journal your thoughts about starting this study.
B. Talk to someone about what you are learning.
There are 4 levels of participation because as we all know sometimes life gets crazy. Log in even if you are at Level 0 because just listening to others share will encourage and help us to persevere to the end.
Session 2 - Thursday, April 2, 2020
Level 1- Pray, read verses 17-32 and make notes on Video Session 2
Level 2- Discussion Questions
A. What are some words you would use to describe David's tone in 18-24?
B. What action does David take in verse 26 and how does God respond?
Level 3- Going Deeper
A. Use James 4:3 and Matthew 7:11 to explain why God sometimes says "no" to our prayers for blessing.
B. Read verses 27-32. What is the difference between belief and knowledge?
Level 4- Inward and Outward
A. Pray/Journal your thoughts about this session
B. Ask God to reveal a specific area of sin He wants to free you from then pray through this list : Ungodliness, Anxiety & Frustration, Discontentment, Unthankfulness, Pride, Selfishness, Lack of Self-Control, Impatience & Irritability, Anger, Judgmentalism, Envy & Jealousy, Sins of the Tongue, Worldliness
Ask someone who knows God and loves you to pray with you about this.
Session 3 - Tuesday, April 7, 2020
Session 4 - Thursday, April 9, 2020